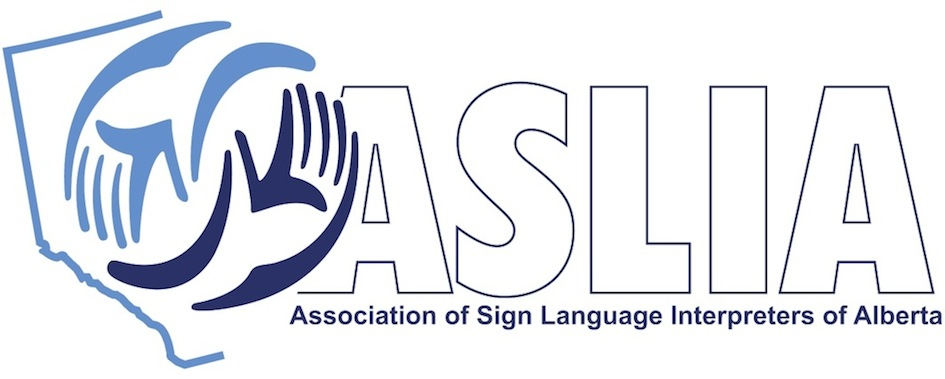 GENERAL INQUIRIES
​​Mailing Address:
Association of Sign Language Interpreters of Alberta
6240 113 Street,
Edmonton AB T6H 3L2
​​​​​​Email:
​aslia@aslia.ca
Upcoming Board Meetings:
The Board meets bi- monthly. All meetings are held via an online forum and times are 6pm- 8pm unless otherwise noted.
Please note that holidays or community events do shift our meeting dates from time to time.
If you would like to join a meeting; whether for observation or to bring something to the table, please feel free to contact president@aslia.ca to arrange joining us online.
Upcoming Meetings:
June 16 -Board Change Over Meeting (Red Deer)

September 6 (Thurs)- Board Meeting
November 1 (Thurs)- Board Meeting
January 14 (Mon)- Board Meeting
March 7 (Thurs)- Board Meeting
April 25 (Thurs)- Board Meeting
April 27 (Sat)- Annual General Meeting 9:30am- 1pm
*Details in Members Log-In for both Edmonton & Calgary*
THE ASLIA BOARD 2018-2020
​
ASLIA would like to thank our current and past directors who volunteer their time and expertise to support and enhance our growing profession. The ​​Board consist of ASLIA members who volunteer to serve a minimum of two years in any given position. Our Board of Directors are voted in biennially at the Annual General Meeting by Active Members of ASLIA.
DIRECTOR RESPONSIBILITIES
​​Summaries of positions can be found HERE or by contacting the current director.
For ASLIA members wishing to see a detailed description, log into the Members Only section and review the Policies & Procedures.​​
Contact a Board Member
President: Alicia Ponciano president@aslia.ca

Vice-President: Diane De Andrade vicepres@aslia.ca
Past President: Karla Pelrine pastpres@aslia.ca
Administrative Secretary: Christine Kozub aslia@aslia.ca
Recording Secretary: Aren Burrell rs@aslia.ca
Treasurer: Laura Patterson treasurer@aslia.ca
Public Relations: Vacant pr@aslia.ca
Publications: Vacant publications@aslia.ca
Membership: Shelly Nafshi membership@aslia.ca
Professional Development: Tracy Hetman pd@aslia.ca

Fundraising: Janae Kowalchuk fundraising@aslia.ca

Special Events: Marquesa Dubois events@aslia.ca
Member at Large: Salma Kanji memberatlarge@aslia.ca
Member at Large: Vacant memberatlarge2@aslia.ca
Webmaster
If you are having trouble logging into Members Log-In or other website difficulty contact webmaster@aslia.ca