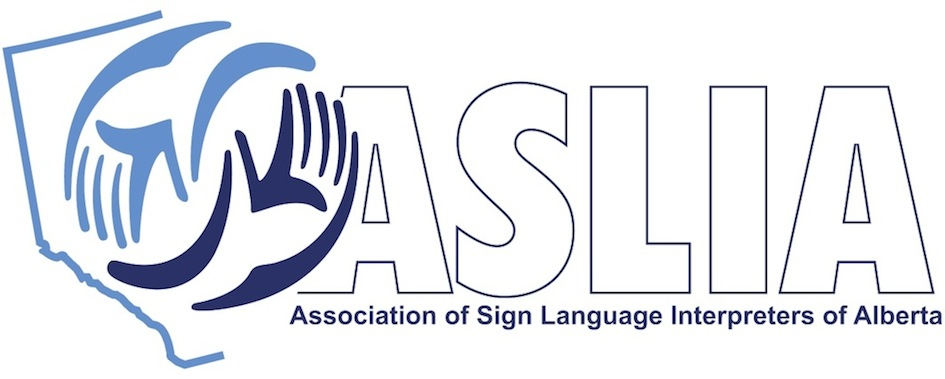 Learn Sign Language​ in Alberta
Edmonton
​​American Sign Language Deaf Culture Studies Certificate​​
Lakeland College: 780.691.1711
American Sign Language (ASL) Classes
University of Alberta: 780.492.3381
Metro College: 780.428.1111 or 1.877.202.2003
Calgary
​
​Signing Naturally
Deaf and Hard of Hearing Society
403.284.6200 or 1.877.711.3447​​​
​​American Sign Language (ASL) classes
University of Calgary: 403.220.2886 or 1.866.220.4992
Chinook College: 403.777.7​224
Interpreter Programs in Alberta
​​Edmonton
Sign Language Interpretation (Diploma)
Lakeland College - Edmonton
www.lakelandcollege.ca
ABOUT INTERPRETING
​​What is a Sign Language Interpreter?
​An interpreter may be requested when two or more people, or groups, do not share a common language in order to communicate with each other. Qualified interpreters possess formal training, sophisticated language fluency, and are familiar with communication norms across a broad range of settings.
What is a Deaf Interpreter?
​​At times, the services of a Deaf Interpreter may be required in order to meet the communication needs of the parties involved in a particular setting. A Deaf Interpreter is a native signer, possesses training and is a recognized member of the Deaf Community. A Deaf Interpreter/s can be used in various settings and is an integral part of the interpreting team.
What is an Oral Interpreter?
​​In addition to Sign Language Interpreters, some Deaf and Hard of Hearing people may lip or speech read and require the services of an Oral Interpreter, whose role is identical to that of a Sign Language Interpreter.
BECOME AN INTERPRETER
​​
The interpreting profession is one that is vibrant with continual growth.
​​Interpreting can be a highly flexible career, lending itself to a variable schedule with the opportunity to specialize in a fields such as education, medical, legal, social, employment, and video relay services.
​​With the advancement of national certification and our broadening communities, there are possibilities for national and international mobility.